When you purchase my book from Bookshop, I earn a small affiliate comission, which supports this blog, a labor of love. Best of all, when you buy from Bookshop, you're also supporting local bookstores.
Relationship: A Poetry Book is also available at major booksellers including
and elsewhere!
Read the Kirkus review here!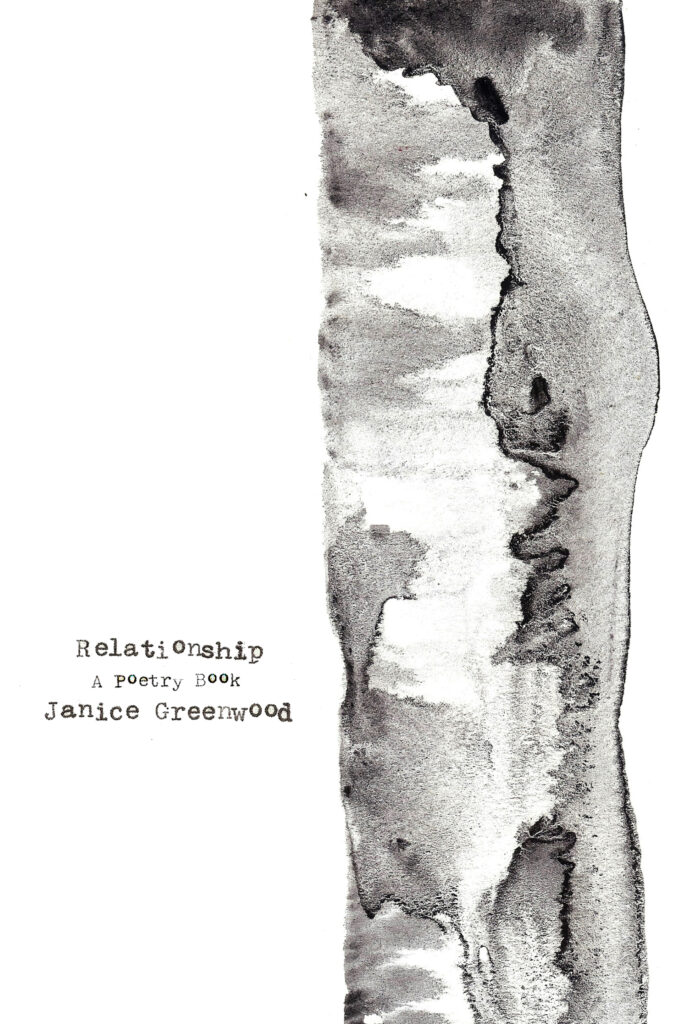 Relationship: A Poetry Book by Janice Greenwood
Here's the description from the back of the physical book:
In her debut poetry book, Relationship, Janice Greenwood explores what it means to be in relationship—with oneself, with others, and with the world. The poems follow the course of a relationship from desire and passion, to early love, to the familiarity and companionship of a long-term relationship, to marriage, and finally through the stages of loss, breakup, divorce, and nostalgia that follow. This poetry book explores the relationship between the human and natural world, the relationship between art and poetry, the relationship we have with the past, and our relationships to things, animals, and ideas. Ultimately, Relationship is a book of poetry about self-acceptance, self-discovery, self-love, growth, healing, and the transformative power of heartbreak. In the absence of the beloved, the writer writes, the artist creates. The book is itself an art object, meant to be held, touched, seen, and felt. Styled like a medieval manuscript, with gold leaf backgrounds, natural figures, and hand-typed poetry accompanied by watercolor art by Greenwood, Relationship is an ode to the physical book and a commentary on our changing relationship to books in print. Just as a lost relationship exists in the past, so does the physical book comment upon our increasingly digitized world. Weaving together myth, medieval motif, art, and poetry, Greenwood takes her readers on a journey through love, and ultimately on a journey through hope.
Order from Bookshop.org and support local booksellers!
Poems from Relationship: A Poetry Book
Here's a look inside Relationship:
The Path
The way you doubted
was there all along
a wake in the sea.
Poetry Books: A Writing Process
This poetry book is the result of over ten years of maintaining a regular writing practice. In that time, I earned an MFA in poetry from Columbia University, got married, moved to Canada, had to leave Canada, got divorced, lived out of a van, climbed cliffs in Yosemite, Joshua Tree, Kentucky, and elsewhere, learned how to surf, lived in New York, and moved to Hawai'i.
The poems are about breakup, divorce, marriage, love, passion, nostalgia and of course, relationships. In a world where everything is digital and easily digitized, this book is meant to be read as a physical object (though it will be available in a modified digital format–to accommodate digital readers). Relationship involves physical connection and I wanted my readers to be able to have a physical connection with this book of poems. The work combines hand-typed poetry, original illustrations, watercolor art, and imagery inspired by medieval illuminated manuscripts.
Doing anything creative is a leap of faith, especially with this book of poetry. I've been working on it for over the past ten years. Relationship is a book of poems that resulted from a rigorous writing process. Here are some things I did that I feel contributed to the book I have today.
Maintain a Daily Writing Practice: Ever since I knew I wanted to be a poet, I have kept a daily writing practice.
Read Poetry: The best way to be a better writer is to read poetry. I also recommend that you read older poets as well as modern ones. My favorite poets include the medieval Pearl poet, Chaucer, Milton, Homer, Ovid, and Dante, as well as modern poets like Arthur Rimbaud, John Keats, William Blake, Emily Dickinson, W.B. Yeats, Seamus Heaney, Donald Justice, Gary Snyder, Elizabeth Bishop, Adrienne Rich, Wallace Stevens, Rita Dove, Tracy K. Smith, Claudia Rankine, and others. Check out my book recommendations page for tips.
Take Classes: Not only did I take creative writing classes as an undergraduate at the University of Florida, I also worked on a poetry thesis project called Rimbaud in Hell with Debora Greger who was my poetry advisor. I graduated in 2007 with honors. Poems including "Ravenna" and "Illuminations: The Poet in Hell" come from this period of time. Then, between 2007 and 2009, I was a student at Columbia University's School of the Arts where I earned my MFA in poetry. Several poems from the poetry book also come from this era. Poems like "Tempest," "Sublimation," and "The Sound of Ice Melting" were written at this time. While some people might choose to go get an MFA, you can also take poetry workshops at your local community college, or look for local writers' organizations that offer poetry workshops. This may be the best place to start.
Get Feedback: While working on my book of poetry, I got feedback from other students studying poetry. After earning my MFA in poetry, I moved to Canada, where I formed an informal poetry workshop group. As I worked to finalize my manuscript I shared my work and sought feedback from professional writers and poets.
Revise: This book is the product of many revisions. In fact, an early version of this poetry book was a finalist in several poetry book contests. The poems that ultimately became Relationship were originally part of another manuscript that was a finalist in Four Way Books' Intro Prize and the John Ciardi Prize in Poetry.
Persistence: There was a period of time where I stopped thinking I'd ever finish this book of poetry. I actually took a couple of years away from writing poetry to focus on a commercial and freelance writing career. But it has been something I've returned to, time and again.
Try New Things. For years, I didn't think I'd finish this book. I put the manuscript in a drawer and in a folder on my desktop and moved on to other things, like rock climbing and learning to surf. But, in the process, life took me in new directions. I met my boyfriend, Sergio Garzon, a master artist, and he taught me how to draw. He is a master of many skills. His ability to blend color is extraordinary. He helped me learn how to mix the colors that ultimately created the "gold leaf" background for many of the pages of this book. Since I was a child, I've been obsessed with drawing trees. This obsession formed the basis for many of the drawings and watercolors in the book. The painting brought me back to working on these poems and re-imagining them in the form of the poetry book as it exists today. In many ways, the art was the door that opened and showed me a way back into the book. It was my path back to poetry; it put me in relationship with it again. Order from Bookshop.org and support local booksellers!
A Sad Poetry Book (But Maybe Not All Sad)
Poetry books can take us on a journey. This particular poetry book explores various relationships. If you're looking for some good poems about heartbreak or some sad poetry books, check out Relationship: A Poetry Book. It's not all sad, I promise.
I wanted the reader to have the aesthetic experience of relationship. We can have so many different types of relationships: a relationship with another person, a relationship with art, and a relationship between writer and reader. I wanted to explore all of these relationships and more. I'm so grateful and thrilled to be able to share this poetry book with the world.
Copies of Relationship: A Poetry Book available at Bookshop.org and elsewhere.