I was first introduced to Jack Whitten's "Ghost Paintings" in the stunning new book, Supernatural America: The Paranormal in American Art, edited by Robert Cozzolino. Well, I should say I was not quite introduced to the paintings, but rather, gestured toward them. In a book about ghosts, Whitten's paintings were the most prominent ghosts of all—as in, they were there, but also not-quite there either.
You can't see Whitten's "ghost paintings" too clearly in Supernatural America: The Paranormal in American Art. There's a fuzzy photo of them in the gallery at Whitten's Museum of Contemporary Art San Diego exhibition, in which the paintings themselves are each about the size of a nickel in the photo. However, you can visit the website of the Museum of Contemporary Art San Diego and find a better quality reproduction there. ArtForum reproduces others as well, noting that this was the first time the pieces were ever published. Likely the last, at least for now.
The "ghost paintings" are reminiscent of early photography, where double exposure sometimes produced ghostly figures. Michelle Kuo in ArtForum described the series as a "haunted take on screen printing." But Whitten's "ghost paintings" are more haunting than the process by which he arrived at them. They remind me a little of the work of Francis Bacon, whose ghostly faces of torment are both present and not, rendered, and not-quite rendered. The sense of torment is further reinforced by the fact that Whitten names some of the pieces after lynchings.
Why don't Whitten's wonderful "ghost paintings" appear in Supernatural America, a wonderful book filled with some of America's most haunted art? According to Robert Cozzolino's footnotes, "Hauser & Wirth Gallery strictly policed these works in this exhibition. A representative (I was not allowed contact with family members) blocked potential loans, forbade any reproductions of Whitten's work, and wanted control of design and even writing… according to representatives from the gallery, Jack Whitten's family does not want him associated with the supernatural."
Few paintings are given so much power, they are not even allowed to be sold. This makes this work fascinating to me.
In 1964, shortly after Whitten created his "ghost pieces," he displayed them in his studio. Cozzolino quotes Whitten, who explained in the Brooklyn Rail that he had to put the pieces away because "it got too freaky." The paintings, Cozzolino writes, "caused visitors to see things." Whitten wrapped them in plastic and stored them away. It was only until the Museum of Contemporary Art San Diego put on a retrospective of Whitten's work that they emerged again for public view. The curator of the retrospective, Kathryn Kanjo, named them "ghost paintings."
These reactions don't feel trivial. Certain pieces of art seem to be imbued with more power than others. How art is imbued with power varies within cultures and times, but in modern day America, the power is invoked through monetary exchange. Whitten's "ghost paintings" are unique for their time and place. The dealers don't seem to want to sell them. The family doesn't want them shown. Their power feels derived from a deeper place, an older one—one where art's power was born from religion, human faith, fear, and taboo.
The very fact that the paintings were forbidden and hidden—and even seemed to alarm the painter himself, only intrigues me more. Cozzolino writes: "The images haunted Whitten." They also introduced Whitten to new processes for creating art, a "process of absence." Whitten created the pieces by wiping away excess paint to form abstractions that teetered on the edge of representation, almost forming faces, but not quite.
The mind is a meaning-making machine, it confronts abstraction like it confronts everything else, striving to fashion sense out of the inscrutable. The "ghost paintings" offer a striking balance between pure abstraction and form.
Whitten is known for his innovative use of new media to create textural abstract painting. In the Brooklyn Rail, he described his process as "linking ancient mosaics with contemporary process painting." But for me, it's Whitten's writing that fascinates me most deeply of all. The titles of his paintings guide the viewer toward making meaning.
Abstract artists like Wassily Kandinsky evade meaning, even in the naming of their work. I stand before the abstract paintings of Kandinsky much like I stand before the writing of Gertrude Stein. Where there is no music, I see a musical stave, and where Stein gave me music, I see a painting.
Whitten's "ghost paintings" invite interpretation, and the names he gave his paintings push the viewer into uncomfortable confrontations with America's haunted past. One of his ghost paintings is called "Head IV Lynching," which you can find at ArtForum. Another work is called Birmingham 1964. It looks like a face has been burned into torn tinfoil. You don't need to know the biographical notes that Whitten was Black, involved in the Civil Rights movement, and was born in Alabama to see the political resonance of his work. (The New York Times reports that Whitten met Dr. Martin Luther King in 1957).
Supernatural America is a book about literal hauntings, and figurative ones as well. The editors write: "America is haunted. Ghosts from its violent history—the genocide of Indigenous peoples, slavery, he threat of nuclear annihilation, and horrific wars—are an inescapable and unsettled part of the nation's heritage."
A ghost may be a visitor from another realm, but a ghost is also the evidence of trauma. Whitten himself writes that his inspiration for the "ghost paintings" came from a memory from his childhood of a "ghost image in a window" of a Black man about to be lynched by a White mob. Before the mob could reach the man, lightning struck the window, burning the man's image onto the glass. Whitten explained that during the height of the worst violence of the Civil Rights movement, he reported that he "started seeing these faces in everything."
For Whitten, meaning was never abstracted away from the process. He writes: "When the spirit enters the painting: I stop working on it. The painting is a resting place for the spirit."
Abstraction has, for me, represented art's subversion to capitalism. Art was once in service to the divine through religion, and while it didn't take long for wealthy patrons to use art to display their own wealth, for centuries art retained its connection to the divine, the esoteric, the spiritual, the humane. But today, art has become something simpler: an investment to be put in a storage unit, a commodity so ephemeral it has become a form of cryptocurrency itself. Yet, Whitten offers the potential for abstraction to be something more. Whitten explained: "for me, abstraction is essence."
Whitten, like Rothko, offers a spiritual kind of abstraction. Abstraction with a soul.
Whitten explains: "There is another spectrum that isn't coming from that regular spectrum we know, it's coming from some place else, an inner light. Rothko discovered that. Rothko's paintings are an advanced way of thinking about light and color, like another level of consciousness, and it took me years to get to that. In the Rothkos you are witnessing a light literally coming out of that man."
It is every person's job to find a way to that light.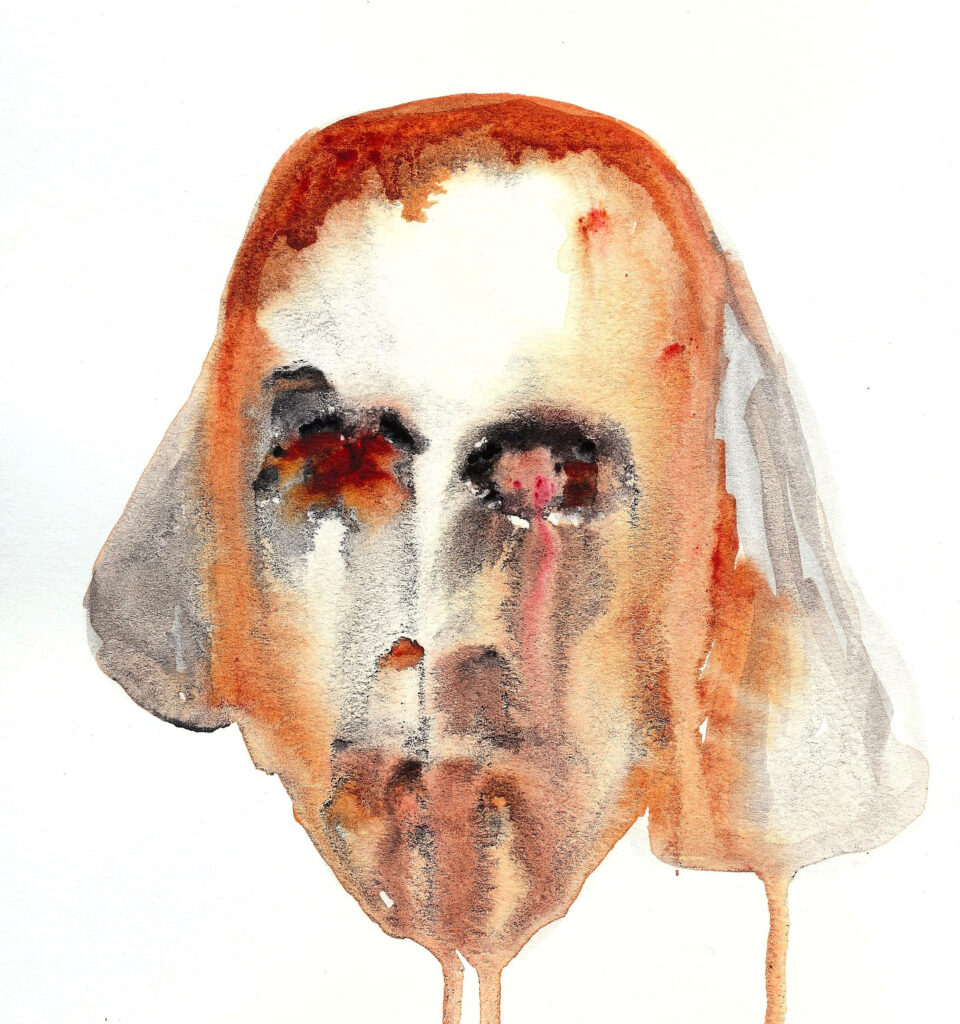 When I read about Whitten, I feel some recognition and affinity. When I was learning how to paint the face, I found myself shocked to find within my own abstractions, moments of figuration. They felt like apparitions. I called them my visitors. Shakespeare came. Virginia Woolf followed. Then Arthur Rimbaud. The writers that had forged my imagination as a teenager returned to me in painted form.
Things of the supernatural occupy neither the realm of matter nor the realm of spirit. They occupy both. I realized that I could also occupy two worlds—the world of images and paint–and also the world of words.
Jack Whitten spoke about the spirit in the Brooklyn Rail. His mosaic paintings were inspired by Byzantine mosaics, which are among some of the most beautiful pieces of medieval art. They are beautiful because they remain alive. Candlelight hits them and they flicker into being. Whitten started laying down paint like mosaic tile. About his process, Whitten wrote, "if I want to push that more into the notion of the spiritual, I can, which I like to do because there is a deficiency of it now."
For Whitten, painting was always a means to get to something else, and "that something else exists off in a more meditative, contemplative, and spiritual domain." Before he died, he explained that he thought of art as an "antidote" to the evil in the world.
As Covid-19 case numbers climb, as a pandemic of ignorance and hate proliferates virulently online and off, as California burns, rivers run dry, and the planet keeps on getting hotter and hotter, the thought of art as "antidote" sounds just about right.
Not a cure. No. But antidote.
Supernatural America: The Paranormal in American Art, edited by Robert Cozzolino at Amazon.com (affiliate link)
Supernatural America: The Paranormal in American Art, edited by Robert Cozzolino at Bookshop.org (affiliate link)
About the Writer
Janice Greenwood is the author of Relationship: A Poetry Book. She holds an M.F.A. in poetry and creative writing from Columbia University.
She founded Sphinx Moth Press to provide more opportunities for low-income writers to have their work read and reviewed.